Krit-Kölln / Zeitraum für Zweifel

Top e.v.
Schillerpromenade 4. 12049, Berlin
"Zeitraum für Zweifel" is the conclusion of Krit-Kölln Online, a two months program that happened between February and March 2022.
The exhibition is made possible thanks to the support of:

"Gefördert von der Beauftragten der Bundesregierung für Kultur und Medien"
www.kulturstaatsministerin.de

#bbkbundesverband
#neustartkultur
#bundeskultur

3-31 March 2021

Con nombre propio
Embajada de la Republica Argentina
Kleiststraße 23-26, 10787 Berlin

Group Exhibition:
Lucía Szych
Karina Villavicencio
María Carolina Díaz
Justina Leston
Delfina Carmona
Sofia Nordmann
Mora Kirchner
Vale Vola

Curaduria: Marcela Villanueva







5-7 November 2021

Dreieck
Exhibition with Delfina Carmona, Justina Leston and Lucía Szych in Hilbert Raum, Berlin

ENG

Three points as part of three convergent lines, these are the minimum amount of elements for the creation of a distinguishable area.

This exhibition suggests a subjective cutting through time and space of the work of three Argentine artists, whose paths intersect at the city of Berlin. Here they find and observe each other, they study their ways,techniques and their relationship. As a result they offer us a universe of reinterpretations. Their work accounts for the forces of the collective, for the importance of one Other, who would help us rediscover and thus resignify ourselves. Always.

Because there are no isolated points in space, but an infinite network of relationships. And from each encounter results a possibility of new hybrids that refuse to be crystalized in a permanent form.

This dialogue is ephemeral. It offers us a moment of pause and observation.The gestures of the artists converse and contribute to trace new forms, which were not visible nor possible until then. The microcosmos created by the images of Carmona, Leston and Szych combines the rigurosity of shapes with the fragility of time.

Dreieck is an ode to geometry and its many times ignored underlying sensitivity.

Curatorial text by Florencia Giudici

ESP

Tres puntos proponen tres líneas convergentes, que es la medida mínima para la creación de un área reconocible.

Esta exposición propone un recorte subjetivo en el tiempo y el espacio del trabajo de tres artistas argentinas, cuyo recorrido se cruza en la ciudad de Berlín. Allí se encuentran, se observan, estudian las relaciones de sus formas, de sus modos y nos ofrecen un universo de reinterpretaciones, que
da cuenta de la fuerza colectiva, de la necesidad de un otro para reverse y así resignificarse. Siempre.

Pues no existen puntos sueltos en el espacio, sino una red infinita de relaciones y de cada encuentro, surge una posibilidad de híbridos nuevos que se niegan a la cristalización en una forma definitiva.

Este diálogo es efímero. Nos propone un momento de pausa y observación. Sus gestos conversan y se potencian para trazar una forma que antes no era visible. El microcosmo que crean las imágenes de Carmona, Leston y Szych combina la rigurosidad de las formas con la fragilidad del tiempo.

Dreieck es una oda a la geometría y a la sensibilidad que cabe en ella, muchas veces ignorada.

Texto curatorial por Florencia Giudici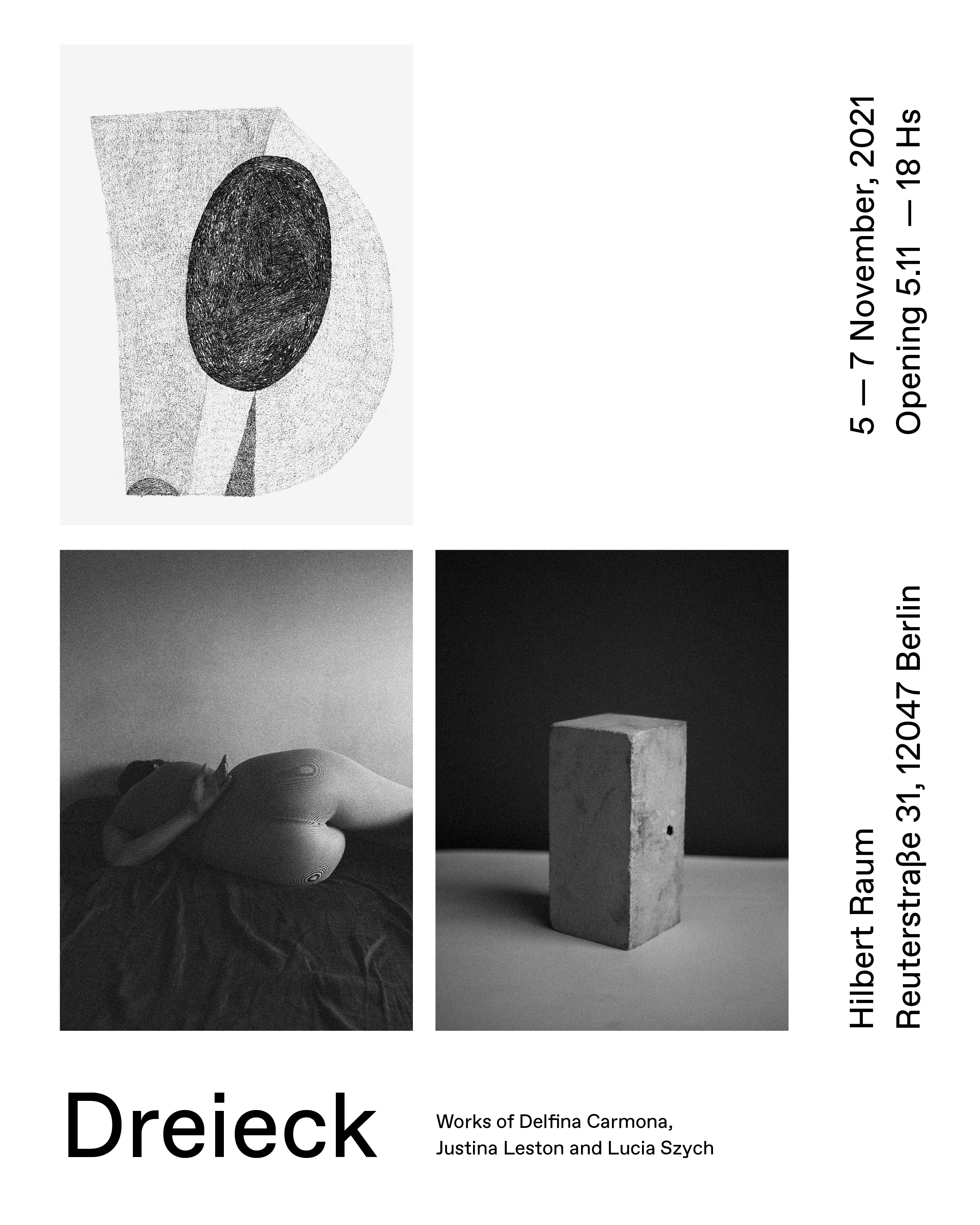 22-30 August 2021

I took part of the SESAM Art Residency participating in workshops covering a wide spectrum of practices in architecture, from design and construction to theoretic research and conceptual art.

SESAM 2021 Poliklinika is a part of Slavutych - Small Ukrainian Capital of Culture 2021 and is supported by Ukrainian Cultural Foundation.


About the program

The location for SESAM 2021 Poliklinika is the city of SLAVUTYCH, a city built to rehouse the workers of the Chornobyl Nuclear Power Plant (CNPP) and their families, after being evacuated from Prypiat, following the explosion of the fourth reactor in 1986 — the worst nuclear catastrophe in history. The new city would not only provide dwellings to those who had been evicted from Prypiat, but also to heal them from the trauma they had experienced.

The town was built in just 18 months through the collaboration of eight Soviet republics, each of which was responsible for erecting a district that then bore the name of its capital: Tallinn, Riga, Vilnius, Leningrad, Moscow, Tbilisi, Baku, Yerevan, Kyiv. Architects, masons, engineers, and designers from each of the republics came to build their respective districts, often with clear references to their own 'vernacular' styles. Prefabricated concrete panels, wall paper, and window frames were also imported. It resulted in a beautiful mixture of different late-modernist styles, human scales, pedestrian friendly avenues, and the first cycling paths in the USSR.